La description:

20CM party popper avec boîte verte n'est pas feu d'artifice traditionnel, il est plus popper de conception de sécurité. même peut être utilisé par les enfants de 8 ans et + sous guide d'adulte, sans allumage, contrôle d'air comprimé, les utilisateurs ont seulement besoin de faire tourner doucement le cylindre, tout votre matériau de remplissage idéal est pulvérisé dans l'air à portée élevée entre 3-10m, un émeute de couleurs, augmenter la célébration festive pour vous. ce popper de fête de confettis est habituellement utilisé dans le mariage, le nouvel an, l'ouverture de la boutique etd.

Fonctionnalité:
Ce produit est Aucun feu.

Ce produts est Aucune pollution

Ce produit est Pas de poussière.
Produits spécifiques:
Product name

20cm party popper with green box design

Upside cylinder

Strong paper tube

Bottom cylinder

Iron bottle

Inside filling

Color paper, Metallic foil, Streamers, Color rose petals etc.

size

20cm

Cylinder design

New design and logo is available

Power

Compressed air

Opening

Rotary typer

Certificate

EN71(SGS)

Usage

Twist the iron bottle

Packing Details

Inner boxes

24pcs/color box

Cartons

50x34x23cm/96pcs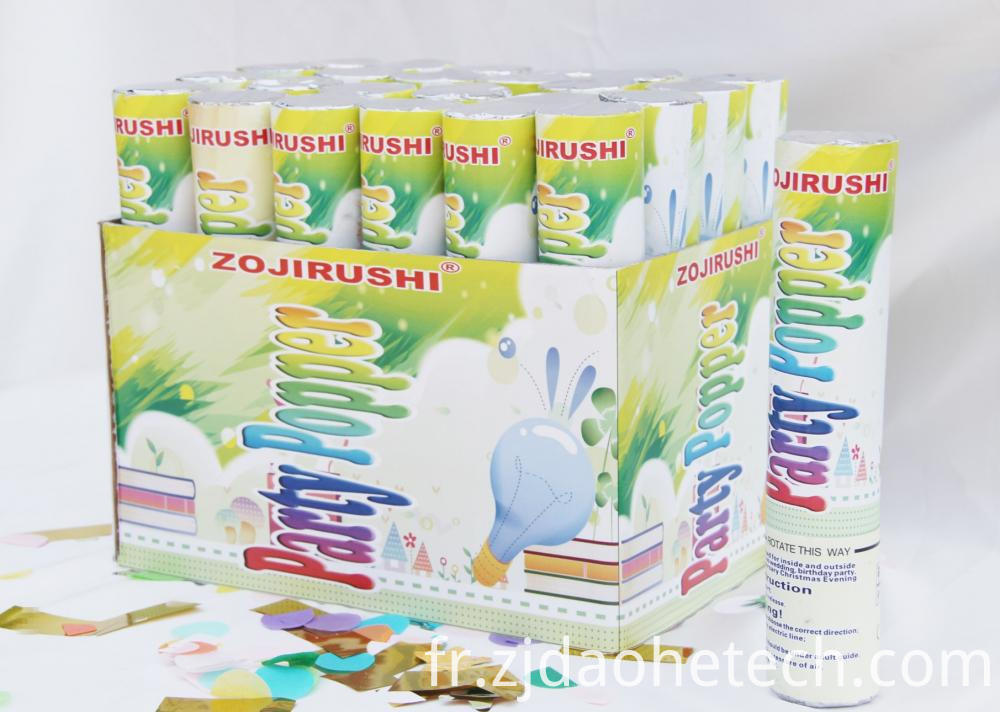 Re-marques: remplissage de conception divers pour votre chèque, OEM avalibale.

Groupes de Produits : Bombe de table > Popper de l'air comprimé Popper